There is so much evidence to show that meditation is an effective way to become less anxious, less stressed and happier. But did you know that you can meditate to build your self esteem and confidence? Here are the best meditation tools that you can easily use each day, tried and tested by me, Karl Perera.
I have successfully used meditation tools to help me deal with low self esteem and depression, so I know what an important self help technique it is and how it can help you. I am currently using mindfulness meditations on my phone for about 10 minutes a day and I love it. The guided meditations are so enjoyable and can be used each morning, they are having a very positive effect on my mood and thinking! I advise you to try this by downloading a meditation from Hypnosis Downloads.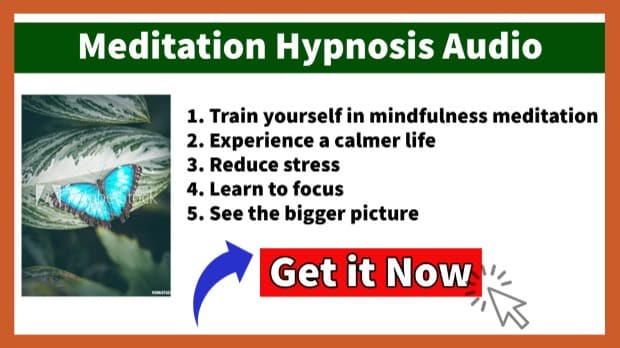 Hypnosis Downloads – Mindfulness and Guided Meditation for Self Esteem
A Life-changing Personal Approach to Your mental Health and Well-being
Over 12.8 million people around the world are using meditation apps and I am one of them. I'm reviewing these guided meditation downloads for you because I love them and find them extremely helpful. In my opinion it is one of the best meditation tools I've tried. I'm becoming more mindful and accepting of my thoughts and emotions, all good for building the three  types of self esteem.
The downloads are very easy to use and well designed. Daily meditation on topics such as gratitude, being kinder to yourself, accepting life etc. Meditation also helps you to avoid self-judgement. I'm looking forward to doing the meditation later when I need a break from work.
These meditations are about ten minutes long and are very restful. They remind you to put your thoughts into perspective and to respect your emotions and feelings. The voice is very soothing, and is just right for the meditation and to get you to relax.
Once you relax, you are taken on a short journey of self discovery. After the meditation finishes, I feel completely relaxed and ready to continue my day with renewed energy! You've go to try it. Download one of these meditations now.
You can take challenges to keep yourself motivated to meditate. For example a seven day meditation challenge with a reward when you complete it. It's easy to set yourself these challenges, which is quite motivating if you do it right.
I noticed that the downloads also give you inspiring messages and quotes, I like the messages because they are so positive.
You can meditate for your mood. For example, if you are anxious, you can choose a suitable meditation to calm you. Each meditation on Hypnosis Downloads is tagged for different benefits so they are easy to find.
The cost of the meditation downloads is very reasonable. There are sometimes special offers, but generally the price is between 10-30 dollars. You can also buy growth credits which enable you to download more from their huge library of hypnosis sessions on topics ranging from giving up smoking to getting better quality sleep.
Go Try Downloading a Meditation from Hypnosis Downloads Today!
I recommend them to you and they offer many great deals that change regularly, so go check it our right now. Go grab this special opportunity now…
Go try Hypnosis Downloads Meditations today!
Find out about meditation and how it works – it can build your self esteem, self-awareness and confidence each day.