Online courses have the big advantage of offering you the chance to achieve anything you want at the speed you want to learn it. On this page I am only going to recommend the best online self improvement courses that my readers and clients have found most helpful.
All those years ago when I suffered from low self esteem and confidence in my teens and twenties, there were no courses like these, there was no internet! So take advantage of these top quality professionally produced courses created by the experts that I personally value very highly.
Let's take a look at the fist online course I recommend you try if you suffer from negative inner self talk or inner criticism.
Beat The Inner Bully Course by Higher Path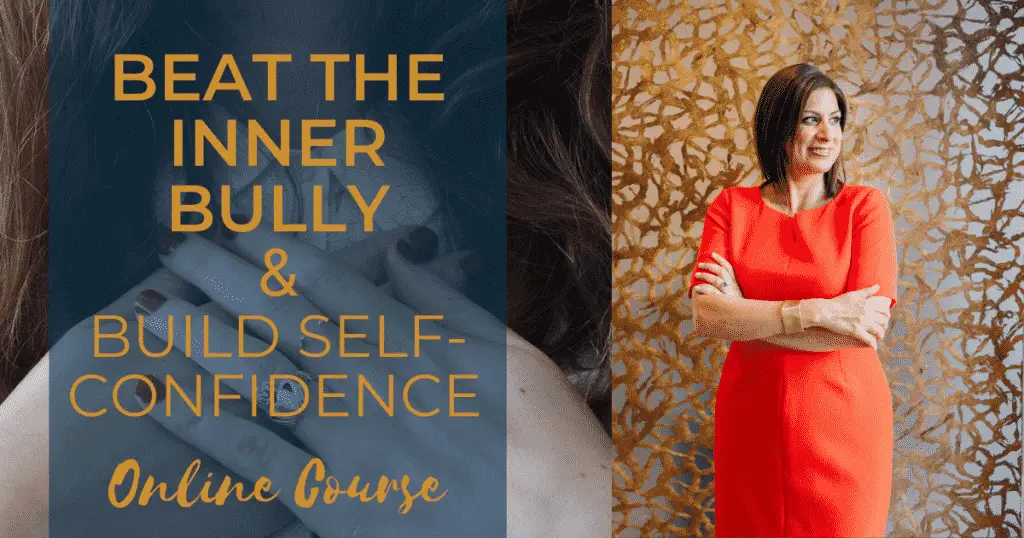 This six week video based online course is presented and created by Monique Tallon, and experienced Executive Coach and CEO of Higher Path. Monique is also author of a great book about confidence and leadership skills called "Leading Gracefully".
Here is a summary of what you'll get when you join the course
1. Welcome Videos
Monique Tallon explains clearly why she developed the course. The reason she gives is that she found that 90% of successful businesspeople struggle with self confidence and self doubt. The course is a direct response to the need to help you, whether you feel successful or not, to build unstoppable self confidence. In just six weeks.
2. Defining Confidence
What is self confidence and what would it mean to you to have it whenever you need it?
The inner bully is that really mean voice inside your head. Does yours make you afraid to speak up? Does it make you feel underqualified, full of doubt or insecure?
This chapter discuss what you can do to build relationships, achieve promotion and improve your self image so you feel more confident and become more successful.
3. The Inner Bully
In this part of the course, you will understand how your limiting beliefs are the #1 thing holding you back. You will recognise the words your inner bully uses, and start to use techniques to silence this negative voice replacing it with a more helpful, encouraging and positive voice.
4. Your Inner Power
In this section of the course you will develop your inner positive power and understand how to use it to your advantage. You will completely redefine your concept of power and use the new definition to change your mindset. This will fill you with new and unlimited self confidence.
Control your Body to Express Yourself Confidently
This part will enable you to start relaxing and focusing on how you want to express your thoughts to others. This will allow you to interact with others much more effectively in any situation.
5. Letting Go of Perfection
You don't have to be perfect, relax and be honest to who you really are. Use your strengths more often and focus on the positives.
6. Communicate More Confidently
This section focuses on communication. You'll develop important communicative skills which will improve every area of your relationships, both personal and professional.
Use your voice more effectively. Be more assertive without being aggressive. be more direct and to the point, show more empathy and compassion to others. These are just a few of the skills you will develop in this course.
7. Negotiate with Confidence
It is often necessary to negotiate and compromise in relationships whether they be personal or professional. Master the art of confident negotiation, while enabling others to be happy with the result. this alone is an incredible skill to have, and makes this course worth your time.
8. Develop a Mindset of Abundance
Conquer the limiting beliefs you may have about money and open yourself up to the acceptance of success in your life. Often lack of confidence or low self esteem stops you from feeling you deserve success. You will complete several effective exercises to break through these barriers and feel worthy of love and happiness in your life.
Do you want to be more confident?
If your answer is yes, then go get the course now: