This week we are sad because of the death of an icon. He was a hero, in my opinion, and millions around the world agree. I created this page to celebrate the life of this important man. He inspired people of all races and beliefs to respect the dignity of being a human being. Included are some Nelson Mandela Quotes.
Mandela was a believer in the huge potential that lies in each of us. He encouraged everyone, by personal example, to stand up and fight for one's beliefs, no matter what the cost. He was a dreamer. In 1952 he said "One day I will be the first black president of South Africa" without any hesitation, and in 1994 his dream became his reality. Throughout his life, he also warned against hate and claimed that the greatest power was love. There are many famous Nelson Mandela quotes that can boost self esteem and inspire you. He was not perfect, but his humanity and imperfection made him special to me and millions who identified with his fight for justice in South Africa and beyond.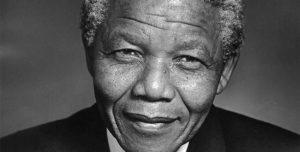 RIP Nelson Mandela
1918-2013 
On this page you can:
Read what he said about topics related to self esteem
Discover more about Mandela's beliefs
Understand how the principles he stood for have a relevance for you
Nelson Mandela Quotes
The first quote below is from Mandela's inaugural speech. He borrowed the words of self help author Marianne Williamson:
You are amazing! This is quite scary because it is easier to accept you are not special. If you believe you have value you have to use this to help others.
Playing big means taking risks.
You are meant to shine!
By using the gifts that are within you, you shine your light into the world and help others to free themselves too…
Why do you feel insecure? Be confident and believe in you.
If you cannot have confidence in yourself then how can you have faith in others?
So working on yourself also helps you to to become a better person and help others with their problems.
Self Discipline
"The brave man is not he who does not feel afraid, but he who conquers that fear."
To face fears and overcome them requires a struggle. Mandela faced prison and persecution but there are many kinds of prison and you need bravery in many situations in life, how do you face your fears?
Courage and bravery are not enough because life is full of setbacks, you need self-assurance and the inner discipline to keep going even when faced with difficulties.
Personal Change
"There is nothing like returning to a place that remains unchanged to find the ways in which you yourself have altered."
Now, thinking about Mandela, he wasn't a perfect person, nobody is. He started as a fighter and learned hard lessons in life which can be an example to us all. He is speaking above of how he has changed from a fighter for freedom, and from anger to the compassionate and forgiving thinker he became. We all need to change if we are to grow, this is why Nelson Mandela quotes are so powerful.
Take my quick and easy self esteem test now and see how you are doing.
Bitterness
"As I walked out the door toward the gate that would lead to my freedom, I knew if I didn't leave my bitterness and hatred behind, I'd still be in prison,"
He said this as he left prison in 1990.
The lesson is to let go of the negative feelings you have towards others in your heart. The example of someone held in prison for 27 years should be enough to show you that your life is easier than that and so if he could forgive those who imprisoned him, you can forgive those who do you wrong. By letting go of these bad emotions you have inside towards others you open yourself up to becoming a new person, a better person. I advise you to find out more about the incredible life of Mandela and the lessons that come from it by reading his amazing book, The Long Walk to Freedom:
(By buying this book you will be helping me to keep this site running as I get a small commission from Amazon.com for each book sold, thank you for supporting me!)
His Beliefs
He had a lot of time to think in prison and instead of becoming bitter he spent time motivating himself and his fellow prisoners by reading from a book he loved. Some of his beliefs are shown in this line he often repeated:
"I am the master of my fate. I am the captain of my soul." – William Ernest Henley
This line comes from a poem by William Ernest Henley called "Invictus" – if you'd like to read this poem, here is a version available on Kindle for just over a dollar. It is extremely inspiring! No wonder he read this over and over. The poem even inspired a film starring Morgan Freeman.
He was also quoted in 2009 in a letter he sent to Makhaya Ntini, stating that "Everyone can rise above their circumstances and achieve success if they are dedicated to and passionate about what they do."
The above quote shows two of his main beliefs were:
Never give up, chase your dreams
Take responsibility for your own fate
My Favourite Quote
"No one is born hating another person because of the color of his skin, or his background, or his religion. People must learn to hate, and if they can learn to hate, they can be taught to love, for love comes more naturally to the human heart than its opposite."
―Nelson Mandela, Long Walk To Freedom
Finally, a few interesting facts about the man:
He was on the US list of terrorists until 2008, just five years ago! Make of that what you will… Here's what he said: "When a man is denied the right to live the life he believes in, he has no choice but to become an outlaw."

There is a nice list of ten surprising things about Nelson Mandela. No.1 you'll never guess! Clue: it's to do with music…
So, what do you think? Who is your hero? Please feel free to drop a comment below, and be sure to share this page through social media to commemorate Mandela and spread his message even further.